Check back here for RECENT NEWS about Cameron Molloy
2017-11-30
I sang "Concrete Sheets" at a coffee house last night. It's good to be back. My broken hand is healing nicely and I'm working on some new songs. I'll be starting to book gigs for next year, let me know if you have any leads or if you want to book me!!!
2017-11-16
I'm back!!!! My tonsils are gone, my throat is healed and I started singing with my vocal coach again yesterday. Look for new content coming soon!!!
2017-10-10
Sorry everyone….I haven't been musically active over the last month or so….
My tonsils have been hugely swollen and painful, which has caused me to cancel 2 gigs, vocal lessons, hockey practices…..breathing…etc….I'm seeing the Doctor again today. I'll keep you all posted.
Take Care!
Cam
2017-09-14
The Province of New Brunswick has officially declared September 16th as "Becca Schofield Day." Becca is the teenaged resident of Riverview, NB who has captured the attention of the international media and the hearts of those who have heard her story. She has inspired thousands of people in numerous countries to perform random acts of kindness.
A group of musicians' from various parts of the east coast have liaised with the fabulous 604 person capacity soft seat Royal Theatre that is located at 400 Whitepine Road inside Riverview High School known as the "Riverview Arts Centre." This comfortable and world-class venue is hosting a day of music that features a wide variety of entertainment, for all ages to enjoy.
"A sea of blue" is the theme. Blue is Becca's favourite colour. Those attending the event are asked to wear "blue clothing." However this request is optional.
There is no event admission cost. Seating is general admission. Freewill donations are encouraged and can be made at the Riverview Arts Centre on the day of the show, to all three of the following charities as chosen by Becca. The charities are; Atlantic Wellness Community Center, Lions Sick Children's Fund Inc. and Sears National Kids Cancer Ride NB. All donations will be shared equally with these three charities. For further information visit the Riverview Arts Centre website or contact Julie Hopkins at 506-852-6059 or Julie.hopkins@riverviewartscentre.ca
Doors open at 10:30am and the celebration starts at 11am on Saturday, September 16th. The event will kickoff with a dynamic performance by the group called "The Rainbow Express," that features a high energy family oriented children's show. This sing-a-long and dance-up-a-storm style show features traditional, children's and all-time favourite songs.
A songwriters circle hosted by Cameron Molloy and Patrick Murray at 2pm. Cameron who has performed his original music on the main stage of the Stan Rogers Folk Festival and Patrick who is endorsed by Alan Doyle of Great Big Sea will perform original music and tell stories about their experiences, songwriting, what inspires them and so much more. Musical guests will include the Riverview based group "Maple Sugar" and other notable performers. 
A spectacular evening concert from 7pm-10pm will showcase the talents of all of the musicians who have generously donated their time to be a part of Becca Schofield Day. These performers include; Patrick Murray, Cameron Molloy, Lilly France, Donna Mason, Darrin Beaton, Connie Saulnier, Michael Campbell & Band, Crystal Mann, Ray Stewart and Shelby Murray & Don Coleman of the musical group known as Unforeseen. 
The grand finale of the concert will be a performance of the song "Becca Told Me To," which was written for Becca Schofield by Don Hill, Mike Campbell, Steven McClintock, Donna Mason, Brian Milligan and Connie Saulnier. This very special song celebrates and recognizes the positive impact that Becca and her #beccatoldmeto movement have created worldwide.
2017-08-02
I made it to the top 7 in a contest to get a spot on the MainStage of the Hullabaloo Folk Festival. Now to get me the rest of the way, I need you to vote for me on Facebook. It's easy and i only need you to vote once. Just click on the Facebook link below, click on my picture and click "Like". That's it!
https://www.facebook.com/pg/LarleeCreekHullabaloo/photos/?tab=album&album_id=1739989242682134
Thanks in advance and I hope to you there!!!
2017-04-30
Wow! So many things happened this weekend. The ECMA's are fantastic! I met so many people, got to open the day and sing 3 songs on ECMA Radio thanks to TD Music Moves Me, performed my first all original 45 minute set at a Gig in the heart of the ECMA's (I think these are called "NoCases"). I also ran into so many musical friends of mine…like Thom Swift, Jamie Robinson, Kim Dunn, Charlie A'court and Erika Kulnys (who asked me to perform a few songs at her gig). Thanks to everyone who came to see my performance, I am so humbled and blessed. My next step is to finish my next CD and get it and me out there even more. I now have 18 songs to choose from….
2017-04-25
A cool thing happened today. David Myles gave a concert at my school and he gave me a shoutout!!! He's an awesome artist, check him out.
Also, I'm excited to head down to Saint john this weekend to take part in the TD Soundwaves student conference on Friday April 28 and an all original gig at Brunswick Square for their Spring Music Showcase on April 29th at 3pm. Have you got your tickets to the ECMA's? I do???? See you there!!!
2017-01-27
So shocked to here that Chris from Ceejay Media passed away recently. Rest in peace Chris, the music world will miss you! Thanks for all the support you provided me and passing on your love and passion for music to the younger generation.
This was one of Chris' favorite songs…I was happy to perform it for him.
2016-12-25
Merry Christmas Everyone! A musical gift just for you…. my latest original song Lay Here with Me
2016-12-11
I just released a live video of my new song "I'll write you song". This one will be on my next album, it will probably be a little different as it goes through the production process but I can't wait to hear the final cut. Hope you enjoy this preview and the others I'll be putting up soon. Be sure to pick up the album when it's released as that what enables artists to continue what they love to do. Your support is so much appreciated and returned to you in new content, music and entertainment. See you out there!!!
2016-10-30
Welcome to my new Website design. Thanks to Dad for putting this together and Jocelyn Vautour for the photo see in the background. A new feature is the merchandise page, look for new items like T-Shirts, postcards and picks coming soon.
2016-07-17
Just got back from the Kempt Shore Acoustic Festival. Sang at the open Mic on Thursday evening, I was part of the Young Songwriters Circle on Saturday morning and then spent the entire evening Jamming with musicians until 4am. Kempt shore is a fantastic festival, check it out sometime…you will be amazed.
At the Road to Stanfest workshop, I wrote three new songs… 2 of my own and another as a 7 person co-write. Can't wait to record demos so you all can hear them.
2016-06-24
In two days,  I'll be headed to my favorite place to write songs….The Road to Stanfest Songwriters Camp in Sherbrooke Village Nova Scotia. Many of my songs have been written there such as Did it hurt, A Word in Every Whisper & Sacred Ground. I'm sure I'll finish a couple more this year…..There's great lineup of instructors….
Camp Website is here
and Doris Mason who was just signed up!
If your in the area, stop by the village. On Thursday night there's a Grand Finale Concert. Hope to see you there!!!
2016-05-16
Excited to be playing at the Connections Bistro on May 20th @ 9 PM as the featured Artist. The Bistro is located at the Saint John Airport. Free Parking,  Food  , drinks and music. Hope to see a good crowd there to hear some great music.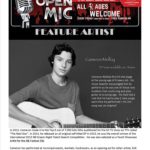 2016-04-15
Just got booked to play in the Acoustica Concert Series for the City of Moncton on July 12th @ 7pm!!! Can't wait to play in the Amphitheater at Victoria Park
2016-04-03
Cameron has entered the CBC SearchLight Contest. It's an amazing event that allows artists from all over Canada to showcase their Music to the world. They select 1 winner from the thousands of entries and thee are some amazing prizes.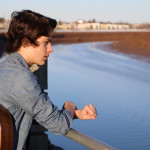 If you like Maritime Folk music about the Sea, then you need to check out Cameron's entry on Searchlight and VOTE for him DAILY.
Here's the link:
CBC Searchlight Artist Cameron Molloy – A Word in Every Whisper 
Thanks so much!!!